Maricopa High School
Parent(s)/Guardian(s)
December 11, 2018
Beginning January 1, 2019 students will not be allowed to be checked out from school 30 minutes prior to end of a school day. (2:00pm. Monday, Tuesday, Thursday; Friday; 12:00pm Early Release Wednesday) This is not only to avoid classroom interruptions during instructional time but, to minimize the traffic so the school buses that arrive after 2:00pm can pick up students safely.
As a reminder, the front office located on Honeycutt Ave. is not a student drop-off or student pick-up. The only time a student is allowed to enter through the front office is if when a parent/guardian is signing them in because the student is late. Students dropped off in the front prior to the bells will be required to walk around to the student parking lot for entrance to campus. Students are also not to use the front office as an exit when leaving at 2:30pm. (Excluding late start/early release students.)
We appreciate your efforts in enforcing these procedures.
MHS Administration
---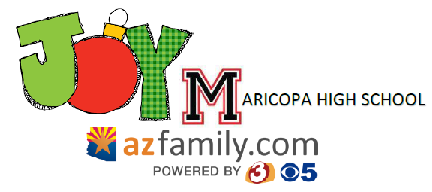 ---
MHS Theatre Company at Arizona Thespian Festival
This past weekend MHS Theatre Company attended and competed at the Arizona Thespian Fe stival in Downtown Phoenix. We presented a One-Act where we received a superior rating for our performance (that is the highest rating). MHS Theatre Company also received a superior All-State ranking. This is a huge honor and is a testament to students hard work and dedication to theatre arts.
Next, 2 seniors Taryn Story and Aidyn Curtis auditioned for over 15 colleges and acting programs. Combined they received 19 callbacks and admission offers to different colleges. If you see these two ladies or a member of the theatre company give them a big congratulations.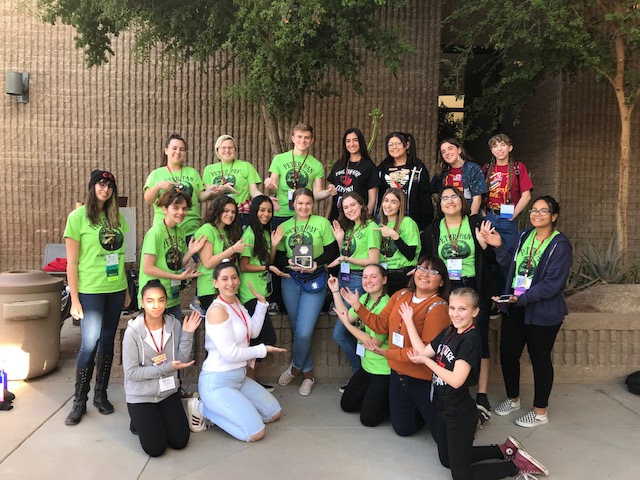 ---
**November 7, 2018 **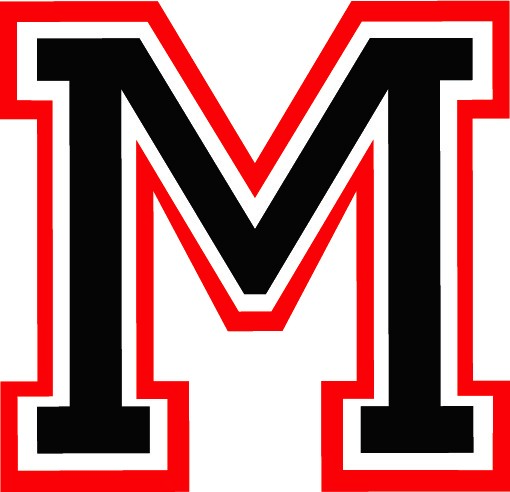 Dear Parents:

Our district is committed to the safety and education of all our students, and we want to clearly communicate with parents about safety issues when they arise. This morning, a student reported that a concerning picture was airdropped to her cell phone. District officials are working with the Maricopa Police Department to investigate and they have determined the threat is not credible.

Student safety is always our first priority, so out of an abundance of caution you may notice an increased police presence at Maricopa High School today and tomorrow. School will be in session for a regular school day tomorrow, November 8.

The Maricopa Unified School District and Maricopa Police Department take all threats to students, staff, and the school seriously. Students who interfere or disrupt an educational institution may be prosecuted under A.R.S. 13-2911. The Maricopa Police Department is continuing to investigate this situation and the Maricopa Unified School District will prosecute to the fullest extent of the law. This is an opportunity for you, as parents or guardians, to talk with your children about the consequences of posting what could be perceived as threatening messages on social media or any other avenues. Please continue to encourage your children to immediately report any perceived threats they may see or hear about, either on social media or through conversations with friends. Reporting potential threats right away minimizes the chance of the threat escalating into something more serious.

I continue to be grateful for your support and commitment to working with us as partners to make Maricopa High School a safe and productive learning environment.

Sincerely,
Brian Winter, Principal
Maricopa High School
---
Maricopa High School
Marching Band
by Ivan Pour - Band Director
On Saturday, October 20th and October 27th the Maricopa High School Marching Rams performed in ABODA (Arizona Band and Orchestra Director's Association) competitions at Corona Del Sol High School in Tempe and Ironwood Ridge High School in Tucson. The band finished in seventh place at Corona Del Sol with a score of 57.575. The band turned things around quickly at Ironwood Ridge, finishing in fourth place with a big one week jump in score to 64.313. The average of these two scores put the Rams into the top 20 bands in ABODA's Division II. The Rams will advance to the State Marching Band Festival this Saturday, November 3rd at Hamilton High School. The Marching Rams perform at 3pm.
The band had their best performance of the year to date at Ironwood Ridge High School, highlighted by earning second place in the music caption and third place
in percussion. They earned praise for good characteristic tone and balance and creating shape in musical lines. The band also posted significant gains in the visual performance caption. This performance truly showed off the hard work our students have put in this year.
We invite the Maricopa community out to the state festival on Saturday to cheer on the Rams! Admission to the event is $10 and children under 5 are free.
As always, we want to acknowledge our awesome, hard working parent volunteers as well as our staff - Roger Wagner - Assistant Director, Eliana Araiza - Colorguard, David Hales - Percussion Head, Stuart Delaney - Front Ensemble. Without these people, our success this year would not be possible!
In addition to ABODA State Festival, the Marching Rams will support the football team for their playoff game at Williams Field High School on Friday, November 2nd, and they will perform in the Maricopa Veterans Day Parade and AzMBA Championships at Perry High School on November 10th.
We also have our "Pass in Review" concert in the MHS Performing Arts Center on December 4th at 7pm. Admission is free.
Thank you for your support of the Maricopa Marching Rams and the Arts in MUSD!